How to import stock transactions from.csv/.xls file into schedule 3?
First, you need to have a clean .csv or .xls file to import.The .csv or .xls file has clean entries, each row is for one stock/mutual fund buy/sell entry, like the following:
50,BCE INC,COM,2012/11/03,"2086.50","1,985.95",9.95,90.60,
50,JOHNSON & JOHNSON,COM,2012/11/23,"3,333.93","3,317.79",10.15,5.99,
column 1 - shares
column 2 - stock name
column 5 - sell price
column 6 - buy price, or cost base
column 7 - commission or expense
Next, add schedule 3 into tax return, and launch import dialog from page 2.

Enter the .csv file location and column specification into the import dialog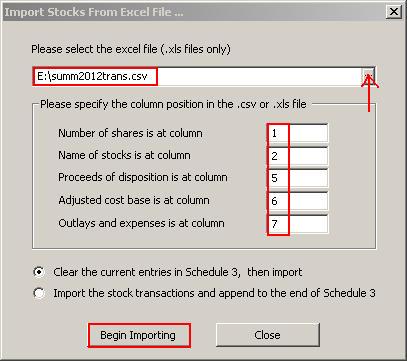 Click "Begin Importing" button to import the transactions. The transactions will display in "More Transaction" window.

Tags:
import
,
stock